The Michigan plant bill of sale form is a legal binding or document provided by the Michigan Department of Agriculture for the transfer or sale of any kind of plants like, Christmas trees, Evergreen boughs, or any other plants. This bill is of utmost importance keeping in mind the environment and use of it in the best way possible to safeguard the plantation.
The following bill of sale form is filled in a specific manner mentioning the details as explained below.
The form starts with the date, place and the person's name it is checked by as well as the state act under which this law is applicable. It also states the registered address of the Michigan department of Agriculture.
Followed by the full details of the seller including the name and the address where the given plant was grown and confirming the sale along with the acceptance of the agreed amount to the mentioned buyer. It also gives the buyer the authority to visit the premises before the said date / sale and do a full check of the same.
The next point describes the plant or the property that is being sold, along with its kind and quantity.
Further, the legal description of the land on which the plant was grown is given such as, the township, section number, portion of the section, townline number, range number and the county.
The last point covers the legal act under which the cutting of the plant / tree and sale of the same is being made along with the date on which the bill of sale is being signed and signature of the witnesses followed by the signatures of both the parties.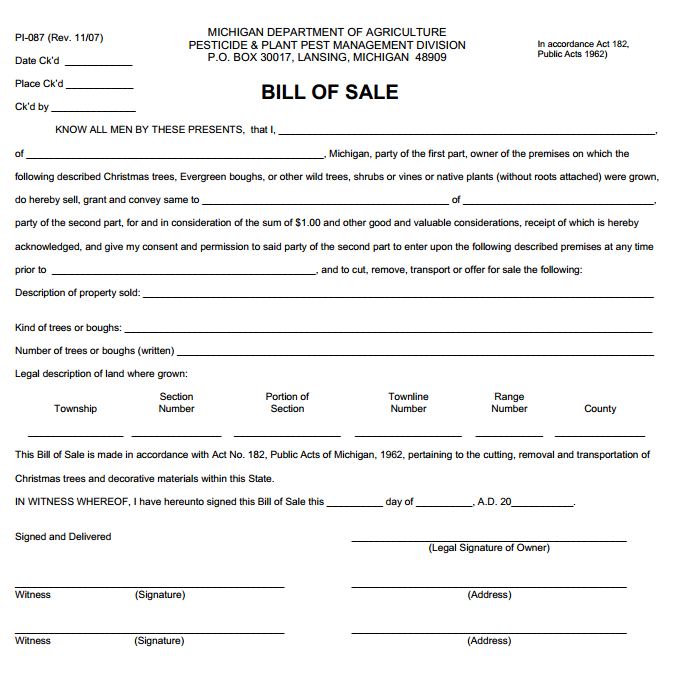 Michigan Plant Bill of Sale Form
(1 Downloads Today)